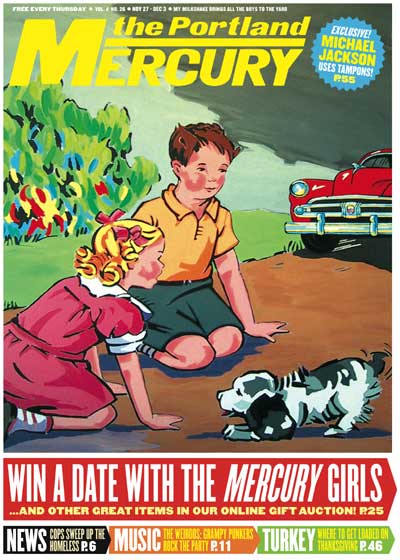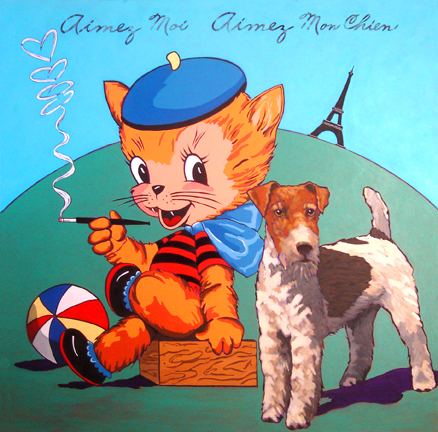 The Mercury says:
"Innocuously disguised as storybook illustrations from the 1950s, the paintings of Lyn Nance-Sasser are intelligent and
well-crafted scenes of impending doom."

Portland Monthly says:
"These acrylic on canvas works resemble children's art of the 1950s, but initial impressions are challenged as each scene features a threatening surprise."

The Tribune says:
Like many people of a certain age, artist Lyn Nance-Sasser recalls being intoxicated by the idealized images in her 1950s children's books, in which chubby-legged toddlers frolicked with puppies and mothers offered treats to their happy broods.

"I remember just looking at them and looking at them,"
Nance-Sasser says. "Those pictures had such a warm and
fuzzy feeling." Years later, a grown-up Nance-Sasser felt it was time to infuse those sugarcoated images with a dose of reality "I thought: 'This is really wonderful. But you know,
real life has lots of twists and surprises.' " The result is her current show, "Blind-Sided,"
in which Nance-Sasser reflects on the idea of being blindsided by life, surprised by events that are out of our control.

Using acrylic on canvas, Nance-Sasser draws one in with
a dead-on re-creation of the optimism that characterized
the books. Upon closer inspection, however, it becomes
clear that the painting's subjects are due for a life-altering
surprise: an alligator's bite, an oncoming twister or a sizzling stick of dynamite that will soon destroy their idyll.

Nance-Sasser then takes the joke one step further, putting
a twist on the friendly animal that was invariably a part of postwar images.

"If you look closely, you'll see that the robin's telling the guy what's about to happen, and the cat's saying, 'Lemme outta here,' " she says. "Animals know what's going on; humans never do.
There's no other way but our view."